Swishing Through The Season
A summary of the Girls Basketball season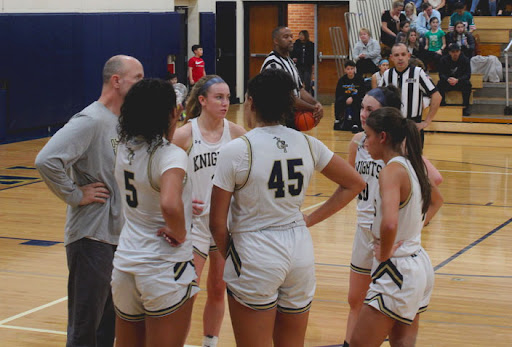 The Golden Knights girls basketball season ended on February 24 after three months of back-to-back games and practices. The girls finished with a 22-5 record. 
Throughout the season, the Golden Knights broke several team records— including winning the Joe Poli Classic for the second time in school history on December 26.  
Captain Melissa Brennan broke the record for the most three-pointers made by a single player at NVOT. Brennan scored 8 three-pointers in a game against Tenafly on January 3 
The team had an incredibly busy start to the season. However, their busy schedule did not slow the team down— it motivated them. "It definitely [made] us better as a team [and] gave us a good push into the new year," said Brennan. 
Their season continued with a win streak throughout December. "Although we are proud and happy with the early season success, we continue to compete each day to try and raise our level of play both as individuals and as a team," said head coach Brian Dunn.
The Knights reigned undefeated until they lost 43-41 against Sparta on January 7. The girls turned that around at the Zack Latteri Foundation Benefit Games against Chatham when they won with a 56-46 score. The girls won eight out of the 11 games they played in January. The team placed fourth in the Bergen County Tournament and lost in the semifinal round to Saddle River Day with a score of 65-40 on February 11. 
On February 24, the team ended their season during the Semifinal Round of North Jersey, Section 1, Group 3, NJSIAA Tournament where they lost against Sparta with a 62-45 score.