The GOAT of the NBA
The Lance's take on sports GOATs
In this series, The Lance will compare athletes from numerous eras to determine who is the greatest of all time in each sport. Defining generational talents is a difficult process, but our opinion reflects our understanding of basketball as well as these spectacular athletes' accolades and legacy.  
3. Kareem Abdul Jabbar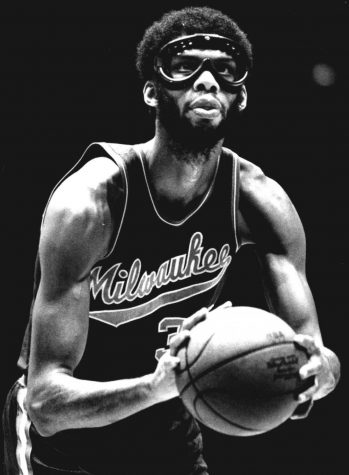 Kareem Abdul-Jabbar is one of the most underrated all-time players. Many know him for being the all-time points leader, and his record stands as one of the most impressive in professional sports. Abdul-Jabbar famously utilized the sky-hook, a unique shot that no player since Abdul-Jabbar has been able to master. The Hall of Famer spent most of his career with the Lakers, but his early years playing for the Bucks were important times in his development and scoring fame.
All time Points Leader (38,387)
6x MVP
6x NBA Champion
2x Finals MVP
19x All-Star
15x All-NBA
2x Scoring Champ
1x ROY
Career Averages: 24.6 PPG, 11.2 rebounds per game, 3.6 Assists per game, 2.6 blocks per game.
Abdul-Jabbar had the privilege of playing with two of the best passing point guards in NBA history, Oscar Robertson with the Bucks and Magic Johnson with the Lakers, and his scoring surely benefitted from playing with them. This is less a criticism of Abdul-Jabbar's scoring and more of a compliment to his ability to successfully operate alongside ball-dominant point guards. The main difference between Abdul-Jabbar and our higher rankings is his lack of fame as a basketball player as well as his simple play style. Abdul-Jabbar was never a flashy dunker or shooter, so he was simply less entertaining than his counterparts on our list. Nonetheless, Abdul-Jabbar remains one of the most prolific scorers in NBA history and his third place ranking does not diminish any accolades or records. 
2. LeBron James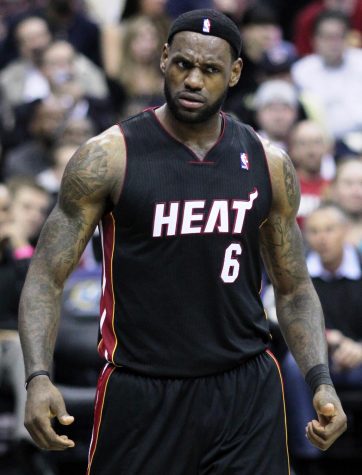 The best current player and arguably the greatest to play, Lebron James has dominated the NBA ever since his arrival from high school in 2003. James  has made 10 NBA finals including eight  trips in a row, and has won four championships. During his career, he has also led terrible teams to the finals such as the Cavaliers in 2007. More memorably, James led the 2016 Cavaliers to an outstanding comeback, winning the finals despite being down 3-1. James's overall career stats and honors include:
16x All Star
16x All Nba
4x NBA MVP
4x NBA Championships
4x Finals MVP
3x Olympic Gold Medals
1x Scoring Champ
1x ROY 2003-04
Career Stats: 27.0 points per game, 7.4 rebounds per game, 7 assists per game
James's impressive NBA career is highlighted most notably by his eight  straight appearances in the finals, displaying his dominance over the last decade in the NBA. James was one of the most hyped high school athletes of all time, and he continued his excellence in the NBA. The numerous awards James has accumulated over his career show why he not only deserves to be on this list, but how he is also to be considered to be the best to ever play. With his efficient and dominant play style he has taken the league over, and his name has since become synonymous with the sport of basketball.  However, we think James can not be regarded as the true GOAT, mainly because of his lack of conversion in the finals. Appearing in 10 separate finals, but only winning 4 times. This is not very supportive for the idea that James can be the greatest, as a below 50% win rate in the finals is not enough to compare to other greats' undefeated status in the finals. Especially considering the fact that James missed the playoffs in the 2018-19 season in a time in his career when he is competing with Jordan to be the best to ever play. Despite his occasional faults, James has shaped the entire sport of basketball, revolutionizing the game for future generations as he continues to dominate the modern NBA.  
1. Michael Jordan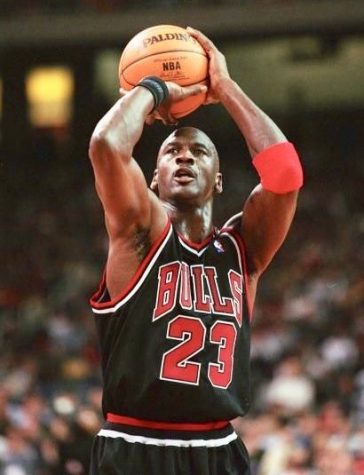 As the most recognizable player to ever step foot on a basketball court, Michael Jordan embodied the competitive aspect of basketball. Winning six championships by three-peating twice, Jordan shows what it means to be the greatest. His overall accolades are much more than just championships, as his honors include:
1x Defensive Player Of the Year (87-88)
14x All Star
2x Olympic Gold Medals (84,92)
5x MVP 
6x Finals MVP
10x Scoring Leader
11x First Team All-NBA
Career Averages: 30.1 points per game, 6.2 rebounds per game, 5.3 assists per game, 2.3 steals
As the face of the NBA, Jordan's career in the 1980s and 90s skyrocketed the popularity of basketball as a whole. Jordan's impressive scoring, lockdown defense, and winner's mentality contribute to the greatness of his career. Of course, many other players have had similar skills and successes, yet fail to receive the recognition of Jordan. This is because of Jordan's incredible achievements in the postseason, such as an undefeated, 6-0 finals record. I believe the stats about Jordan in the playoffs are a bit misleading, especially when compared to James, who has lost 7 finals. In fact, Jordan actually lost in the earlier rounds of the playoffs more than James, but his ability to capitalize on finals trips puts him ahead of James in our eyes. Winning a championship is an incredible feat and the mark of any great player or team, but Jordan won three in a row on two separate occasions. Jordan's six rings in seven years were only separated by Jordan's stint in professional baseball, coming between three years. 
Jordan's winning nature is personified through his undefeated record in the finals, and in our opinion, a 6-0 finals record is more noteworthy than a 4-6 finals record. As simple as that statement sounds, it is an important argument considering the difficulty of reaching a finals as well as opponent strength. Considering Jordan and James each faced difficult opponents in their respective finals appearances, in our opinion it is not worth valuing some rings over others simply based on finals matchups. 
Moving forward, the all time ranking of Jordan extends past that of James' primarily from a defensive perspective. It is difficult to argue against the playmaking of the 6'8" point-forward James, but the pure scoring of Jordan can account for this difference. Therefore, the factors on the defensive side of the court come into a larger value, and Jordan's DPOY and All-Defensive teams are still undervaluing his defensive prowess. Jordan was known to lock up opposing guards, the most notable of which include John Stockton, Gary Payton, and Isiah Thomas. Although James' opponents include incredible Hall Of Fame players too, the likes of Carmelo Anthony, Kevin Durant, and Kawhi Leonard, they were not seen as mismatches defensively in James' favor. James has never been regarded as a top defender, but when Jordan was locking up, his matchup was never going to get an easy bucket. 
All three of these players are iconic symbols of the sport and are widely recognized as the three best players ever. Although each one deserves to have the title as the GOAT, we ultimately believe that Jordan's career dominance just puts him ahead of the other two.