A Pasta-tively Good Show
NVOT music department holds the second annual spaghetti dinner.
Parents gathered into the north and south cafeterias waiting for the students from the NVOT Arts and Music departments to perform their own musical pieces that they have been learning. In addition to the performances, the audience enjoyed a dinner of spaghetti, salad, and other foods as the second annual spaghetti dinner took place on November 14.
Students who participated were responsible for preparing their own musical material. Vocal music teacher Jonathan Meszaros said, "It is a really wonderful event where they are able to get their hands dirty, being in a non-literal sense, since it's food-oriented, and enjoy an evening of community together."
The dinner had an overwhelming turnout, with a lineup that varied from piano to singing performances. According to instrumental music teacher Amy Wilcox, the "performances were amazing [because] all types of different students performed–kids playing piano, kids singing, saxophone quartets, flute-clarinet duets–who were all outstanding."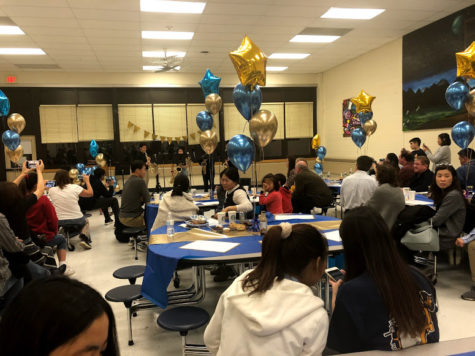 Since this is only the second annual spaghetti dinner, many students, like freshman Luke Brossard, were unfamiliar with the relatively new event. Brossard said, "I really enjoyed watching the upperclassmen perform and it was a great opportunity to be introduced to the department and have a really good eye-opening experience to what the future might be." Brossard performed in a saxophone quartet along with freshmen Seho Lee, Jun Sim, and Derek Liang.
Because the night featured performances from students in varying music backgrounds, it was able to highlight the diverse talents of NVOT students. The music department hopes to continue this tradition in the future.